The Texans were a letdown at NRG but it almost didn't matter to me

HOUSTON — Two weeks after Houston was devastated by hurricane Harvey, thousands of people are still displaced, with many not even having a home to go back to. The record breaking rainfall took at least 70 lives, and brought with it destruction in the billions of dollars. However, before the rain had even stopped Houston community began coming together to help those in need.
All of the sports teams led their own efforts of outreach to raise money and volunteer services. Texans' J.J. Watt was at the forefront of these efforts with his crowd funding drive that has raised over $31 million. Despite being a Wisconsin product, Watt has shown nothing but love for the city of Houston and the state of Texas.
Texans fans got an opportunity to return the love and maybe even a bit of normalcy back in their lives when the team decided to keep the home opener in Houston.
I was lucky enough to be apart of this surreal experience.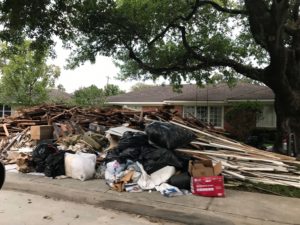 Passing through the neighborhoods directly surrounding NRG Stadium you see the aftermath of 5-6 feet of water in every house. Streets were lined with piles and piles of flood damaged possessions.
Click here for video.
These fans needed something to take their mind off the grueling task at hand. Seeing Watt and the Texans provided a perfect outlet. The tailgates were their typical generous selves, offering libations to anyone in Texans gear.
The pre-game energy was electric; everyone knew Watt would do something special. There was even some prop bets on a few online sports books on whether he would come out with a Texas flag or not.
Well, to whoever bet on that, good for you because he came bursting out of the fiery tunnel with a Texas flag in hand and the whole stadium on their feet.
The game quickly turned ugly as Leonard Fournette and the Jaguars ran all over the Texans. It was an ugly loss, but it almost didn't matter, because football was back. A new water cooler conversation about something besides the tragic drama of the last two weeks. Even if it's just to debate Tom Savage or Deshaun Watson, the people of Houston got the distraction they needed.