Padres' GM suspended for falsifying injury reports
A.J. Preller, general manager of the San Diego Padres, was suspended 30 days without pay as punishment for concealing medical records while negotiating trades. Preller had the team's training staff prepare two separate health reports for players – one for use by the team and a flimsier one for disclosure to the industry at large. ESPN's Buster Olney reported that by hiding injuries Preller was able to negotiate trades that were more beneficial for his side. The episode that got him in trouble was the trade of pitcher Drew Pomeranz to Boston for highly rated pitching prospect Anderson Espinoza. Pomeranz (2-5, 4.90 ERA) has been hampered by injuries that Preller failed to disclose.

Dear A.J.: You're very lucky to get this slap on the wrist. Your team should be losing draft picks for this, but so far, there's been no penalty paid by the organization.
Cubs president Theo Epstein sits in bleachers, incognito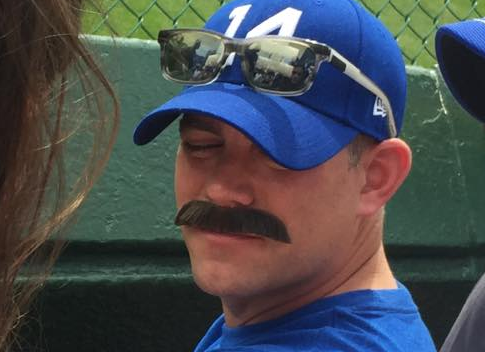 The day after the Chicago Cubs clinched the National League Central title, the team's president sat in Wrigley Field's center-field bleachers, disguised by a thick black mustache and goatee, both fake. It was not until the fourth inning of Friday's game with Milwaukee that some fans recognized him and blew his cover. After the Cubs' 5-4 victory, Epstein described the fan experience: "Sit out there, feel the breeze and be amongst the fans, have a beer.   It was wonderful, even better than I thought it would be. . . . I personally think it made me a better executive, so I'll have to try it again."
Barkley blames blacks' inequality on 'other black people'
Charles Barkley, retired basketball superstar who now comments on the sport – and everything else – continues to criticize an African-American culture that he contends fails to promote hard work and education. He's been in Philadelphia giving this radio message: "One of the reasons we're never going to be successful as a whole, is because of other black people. And for some reason we are brainwashed to think if you're not a thug or an idiot, you're not black enough. . . . We're the only ethnic group that says, 'Hey, if you go to jail it gives you street cred.'"
Paterno saluted by Penn State despite enabling sexual abuse
Although Joe Paterno's coaching career ended in disgrace – forced to resign as Penn State football coach because he ignored multiple reports (dating to 1976) of assistant coach Jerry Sandusky's pedophilia – the university chose to salute him during Saturday's game against Temple. The celebrated occasion was the 50th anniversary of his first game as the Nittany Lions' head coach. Many fans were wearing T-shirts proclaiming, "Jerry Sandusky is innocent." Some Temple supporters in the upper deck of Beaver Stadium expressed their view by turning their backs on the tribute to a coaching legend who died in 2012.
Ryan fires Roman, coordinator who called him a 'buffoon'
Greg Roman's termination as offensive coordinator of the Buffalo Bills may not have been just a business decision. He apparently had a personality conflict with head coach Rex Ryan, who announced the firing the morning after the team's Thursday night loss, 37-31, to the New York Jets that dropped Buffalo's record to 0-2. The Buffalo News reported that Roman told at least one associate that Ryan is "a buffoon." Although Ryan contended that the decision to fire Roman was his alone, he was influenced by Bills owners Terry and Kim Pegula. The News reported that the Pegulas complained about the team's offensive deficiencies in a meeting with the head coach shortly before Ryan announced the firing. It was also reported that the Pegulas had conferences with some of the Bills players prior to the change. Romans was replaced by running backs coach Anthony Lynn, who is expected to design an offense that assigns a more prominent role to receiver Sammy Watkins, who acknowledged that he met with ownership prior to Roman's dismissal.

Between the Lines: Lots of turmoil on this team. When players are huddling with owners, the head coach cannot feel secure.