NFL punter McAfee retires at 29 to write for Barstool Sports
Pat McAfee, punter for the Indianapolis Colts, announced he's taking early retirement from the NFL to write for the satirical website Barstool Sports. McAfee believes he can write humorously, and he expects to be ensconced in a new office in downtown Indianapolis. "I'm real excited to turn my obsessive-type focus towards making the world a happier place," he said. If he stays with this plan he will be giving up $6 million in salary over the next two years. While punting is one of the safest jobs in pro football, McAfee has undergone three knee surgeries in four years. He thinks blogging will be more fun, but he didn't sound entirely certain. "My life has been littered with terrible decisions; this is at the top of the list," he joked while in Houston for the Super Bowl. He considered making this move prior to the 2016 season, but coach Chuck Pagano talked him out of it. McAfee went on to lead the NFL by averaging 49.3 yards per punt. He was named to his second Pro Bowl in three years.

Dear Pat: Wouldn't it make more sense to work for Barstool part time and continue your very lucrative football career?
Astros pitcher McCullers turns reporter at Super Bowl
Like Pat McAfee, Houston Astros starting pitcher Lance McCullers sees himself as a journalist. During Super Bowl Media Day he wore a handsome suit and carried a microphone with an Astros logo and proceeded to do interviews for Snapchat. New England Patriots coach Bill Belichick snubbed him (hey, Lance, what did you expect?), but most of their players were cooperative. McCullers asked backup QB Jimmy Garoppolo: "What's it like being the second-best-looking dude in the whole place?" Garoppolo smiled. "Second best?" To which McCullers said: "Tom (Brady) is No. 1." Garoppolo: "Tom is?"
Texas Rangers seeking Brady's jersey stolen from his locker
Following the Super Bowl celebration in the locker room, New England Patriots QB Tom Brady was rummaging through his travel bag, looking for his jersey. He couldn't find it. "It will be on eBay soon, I guess," he told an ESPN reporter on his way to the team bus. A similar incident occurred after the Patriots' victory over Seattle on Feb. 1, 2015. Brady's jersey disappeared then also. Texas law enforcement is taking this latest incident very seriously. Lt. Gov. Dan Patrick, a Houstonian, ordered the legendary Texas Rangers to drop whatever they were doing and assist local police in finding the missing jersey. Patrick understands priorities in the Lone Star State. "In Texas we place a very high value on hospitality and football," he said. "Tom Brady's jersey has great historical value and is already being called the most valuable NFL collectible ever."
Kyle Shanahan fumes as elevators stall after Super Bowl ends
Atlanta Falcons offensive coordinator Kyle Shanahan, who's now head coach of the San Francisco 49ers, was furious when elevators at NRG Stadium malfunctioned after the Super Bowl ended, preventing him from descending from the coaches' booth to the locker room. As he waited more than 20 minutes for an elevator, Shanahan voiced his displeasure, with a few expletives tossed in, to a security guard. He had to be calmed down by Jerome Henderson, the Falcons' pass-defense coach.

Dear Kyle: Patience seems to be a problem for you. You should have been running the ball instead of throwing it when you had the lead in the fourth quarter.
Patriots defensive coordinator Patricia wears Goodell clown shirt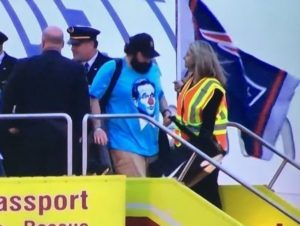 When the New England Patriots returned from the Super Bowl, defensive coordinator Matt Patricia stepped off the airplane in Boston wearing a Roger Goodell clown T-shirt. It features a caricature of the NFL commissioner with a big red nose. Some reporters speculated that Patricia may be fined by the league office, but others think Goodell can be forgiven for DeflateGate if he permits Patriot Nation to enjoy a joke at his expense.