Here's Johnny: the Good, the Bad, and the Ugly
It seems every day brings to light another Little Johnny episode. Another inappropriate act. Another place the Heisman Trophy winner shouldn't have been without a chaperone or a lawyer or Ray Donovan. Mark Roberson, a member of Kappa Sigma at the University of Texas, lives close to the trail of Texas A&M's midnight-rambling, frat-house-defacing quarterback. An out-of-control adolescent, not yet a man but very much a Manziel, was perhaps inadvertently set up by his wealthy father to succeed and then to fail — both in a spectacular way. 

AUSTIN — It was another Thanksgiving Day matchup between A&M and Texas:  25-24 Aggies with two seconds left on the clock.  Justin Tucker, who would go on to win a Super Bowl with the Baltimore Ravens a year later, kicked it straight through the uprights from 40 yards.
My family and I, buried deep in the Texas A&M alumni section, jumped up and down screaming.
Once I stopped celebrating, I noticed the entire stadium that was so loud seconds before the ball left Tucker's foot was now silent as a graveyard.  I was witnessing the end of an era. The rivalry that had stood for over one hundred years had reached its close.
As a Longhorn fan it was painful for me to see A&M move to the Southeastern Conference.  It meant the death of a Texas tradition.  Having grown up in Houston, I had family, friends, even neighbors who attended both A&M and Texas. The Thanksgiving game was a yearly ritual, worthy of our great state.  What could be better than sitting on your couch after a Thanksgiving meal and watching college football on TV with family and friends?
Losing a love-to-hate rival like Texas A&M was a punch in the gut for Texas, not to mention the Big 12 to which my school belongs.  The classic Thanksgiving feud between cousins and obnoxious aunts and uncles dissipated and was replaced with stale pleasantries as we watched Texas lose to TCU last season.  I never thought I would be saying I miss the Aggies.
The truth is, however, that our rivalry had created a weird sort of bonding.  Perhaps we didn't even know it, but we cared deeply for each other.  Those warm feelings tend to emerge with an extremely happy or sad event.
As when a giant maroon wall of A&M fans stood and cheered in unison for Ricky Williams, who had run roughshod over their team on his way to the Heisman Trophy.
As when Orangebloods in my family mourned alongside our Aggie family members and friends as one of A&M's several glorious traditions – The Bonfire – raged out of control one horrifying night in 1999 and resulted in deaths of 12 college students.
Even with the Aggies Gone, I still follow them with interest.  Going into 2012 I believed them to be a subpar team.  Sure, Kevin Sumlin was a major upgrade at head coach.  But could that make up for the losses of Tannehill, Swope, Gray?
I expected them to get trampled in the conference that has dominated college football since 2006.  And I wasn't looking forward do this, because it would be another humiliation for the Big 12, another put-down of my already sagging Longhorns.
Enter Johnny Manziel, aka Johnny Football.
He zigzags all over the field, performs miracles, knocks off the national champ, wins 11 games, becomes the first freshman to win the Heisman Trophy.  He's baptized a college football legend.
And now you see things like the photograph that accompanies this article.
It seems Johnny just can't keep his signature to himself, which is his No. 1 problem, the reason the NCAA investigated him. This picture was taken over the Thanksgiving holiday last year at the UT fraternity house of Kappa Sigma, of which I am a member.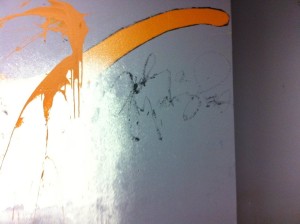 This turned out to be a festive weekend that turned ugly.
Johnny was in town for the 2012 Texas -TCU Thanksgiving game visiting a friend in Kappa Sig.  He's actually long been a fan of the Longhorns.  When he was a high school senior he was far more interested in going to Texas than to Texas A&M.  But he saw that the Horns were enthralled with Case McCoy, so he looked elsewhere.
Anyway, after the TCU-Texas game Johnny and his friends came back to the house and proceeded to spray orange paint in the basement, which we had to clean up a day later.  It wasn't too big of a deal to us – just a typical frat-house prank.  We laughed about it, cleaned it up and moved on.
We didn't give it that much thought, until months later when more Johnny stories started coming out, a trickle that turned into a flood.
There was the much publicized Manning Camp incident in mid-July, where Johnny allegedly went out to a bar and didn't make it back for next morning's practice.
Later on in the summer, I was on campus for a weekend and heard about what happened one night at the Sigma Alpha Epsilon fraternity house. Johnny showed up with some friends.
I talked to a friend who was there who said Johnny was flustered and frustrated that some of the Texas fraternity guys didn't like him hanging out at their party. Sure enough, a day later the video of Johnny getting booed and thrown out of the party was all over ESPN.
But the first embarrassing incident to get publicized was an arrest in June 2012, when he was involved in a fight, coming to the aid of a friend. Johnny eventually paid a $2,000 fine for a misdemeanor.  Worse, a mug shot of him, shirtless and looking dazed, received wide distribution.
Then the biggest bombshell exploded in early August. An autograph broker told Joe Schad of ESPN that he paid Johnny $7,500 for an autograph session. Several similar allegations soon followed. The NCAA has since concluded its investigation, which resulted in a one-half suspension that took place during A&M's first game against Rice earlier this season.
Controversy continued when his father, Paul Manziel, told ESPN "it could come unraveled.  And when it does, it's gonna be bad.  Real bad."  He was referring to Johnny's drinking and lifestyle apart from football.
Here's something about Johnny you may not know:  Texas Monthly reported that when Johnny was younger, Tiger Woods promised him an autograph in the clubhouse.  Woods never showed.  Ever since, Johnny, encouraged if not demanded by his parents, has spent many hours signing as many autographs as he can – without charging for them.
The question is, did he eventually start taking money for his signings?
Former Heisman winner Tim Brown told WNDU TV in South Bend: "I've been in two places where he was unsupervised.  I was in Connecticut and I was in Florida, and he was there on official school business with no one there with him.  I don't know how smart that is."
Brown has been in Johnny's shoes and knows the temptations.  "The problem is that once people get to us it becomes an impossibility to say no because what they are offering is so great.   As much as you say 'No' and try to do the right thing, it's tough to do."
But perhaps the problem is that Johnny hasn't heard 'No' very often.  He comes from one of Texas' wealthiest families.  His great grandfather, Bobby Manziel, was born in Lebanon and became one of the pioneers in the East Texas oil fields.
Johnny's father gave him a Class-C Mercedes when he was in high school in Kerrville, Texas.  But according to Texas Monthly, Paul Manziel took away his son's car when he was jailed for drunkenness. The Mercedes was replaced with a rattletrap pickup that Johnny was embarrassed to drive to school.
Johnny can be grateful – and probably is – that his father gave him the genes of an athlete and encouragement to develop his unique ability.  Paul Manziel was a good enough golfer to earn college scholarships.
But Paul had one fatal flaw to his game, the inability to control his temper.  It seems he also has passed this down to Johnny.  As Paul Manziel told ESPN, "I don't enjoy playing golf with him because I don't want to see that temper."
There have been reports of Johnny not only hurling his golf clubs but smashing cell phones in his fits of anger and frustration.
His life is under a microscope like no athlete his age has ever experienced.  Everywhere he goes there's someone snapping a picture, filming him on a camera phone, or tweeting about a Johnny Football sighting.  That's the way the college culture is today. Every student I know at UT has an iPhone with a camera capable of video and high quality pictures.
So how does he deal with all this stress and anger?  He does what any college kid does:  he drinks and goes to parties.  Austin, much larger and livelier than College Station, is an obvious destination, less than two hours away.
Whether it's stress piling up because you're behind in a class, or that you just have nothing else to do, drinking and going to bars is something most college kids do.
But we still have to maintain our focus on the responsibility we have to ourselves and to others.  And when the drinking gets us into legal trouble, we have to change our habits.
The problem is, Johnny hasn't changed after everything that has happened to him. Fame and success are the breeding ground of arrogance.  He goes around partying and having a great time, as if he's above the law.
This cannot continue if he wants to remain the Aggies' starter this fall.  Kevin Sumlin is tired of the three-ring circus surrounding Manziel. Sumlin wants a leader for his team, not a distraction.
College football is a business just as much as a game. College programs are in an arms race to build the newest stadiums and join the most powerful conferences. The revenue that Johnny will generate for A&M over the next three years is immeasurable. The school cannot afford a side show around its golden goose.
Here is UT junior quarterback David Ash, speaking to Mike Finger of the My San Antonio blog:  "I don't know Johnny Manziel personally, but I do know that college football players are regular people, and they have their problems, just like everybody else. And Johnny Manziel, he seems like a nice guy. There's a lot of pressure, a lot of things that can go wrong in your life. And probably not very many people are interested to know what that is, or what's going on.  Johnny, I just wish him the best.  He's a great football player.
"For me, it's only by the grace of God I haven't taken that path. I've been blessed with great parents.  I've been blessed with a great community in Austin.  I have my problems, just like Johnny Manziel.  Somehow, I keep them from you guys."
I myself can relate to Johnny's situation.  At our age I can't imagine being prepared for this sort of scrutiny, from the press, fans, and everyone he knows and does not know.
Of course it's easy for me to say, but he has to deal with the burdens along with the blessings that fame has bestowed on him.  As the quarterback of a major FBS program, he has to act like a leader on and off the field.
Frankly, I'm becoming exhausted from hearing about his continual missteps.  And of everyone making excuses for him, cleaning up his messes, covering them up.
And here I must look into the mirror. I, along with my fraternity brothers, have been involved in a Johnny Football cover-up. No one called the police when we saw his vandalism, because let's face it, in a fraternity stuff like that happens every day.  I didn't consider it relevant until all the other incidents became public. But if we had called the cops, and Johnny was thrown in jail yet again, it may have helped him. It might have given him the wake-up call he needed.
Perhaps if people had been saying no to Johnny a lot earlier, he would not be in the predicament he is now, seeing his magnificent career in danger of collapse.
Links: